Anne Ford
By Anne Ford on March 19, 2015
As a per-diem (part-time) facilitator for StoryCorps, I get to meet many amazing people. I recently had the pleasure of facilitating some interviews at Access Living, an advocacy group for people with disabilities. There I heard the story of a man whose love for his disabled brother led to an entire career. You can listen […]
Posted in StoryCorps | Leave a response
By Anne Ford on July 3, 2014
Just a quick note to wave hello and send out good-summer vibes to the known and unknown universes. I'm staying busy these days creating content for the Art Institute, plus keeping up with my usual motley array of freelance work. Now and then I go someplace, usually on the heels of my husband, who runs […]
Posted in Truly Random Posts | Leave a response
By Anne Ford on November 4, 2013
I'm thrilled to report that one of the short films from the series I've been working on with Groundfire Pictures, "The Chicagoans," will air tonight on the PBS show "Local, USA." You can catch it at 8 PM on WTTW 11.3 (NOT regular ol' WTTW Channel 11!), Comcast 369, or RCN Cable 38. Ours is […]
Posted in Brags | Leave a response
By Anne Ford on September 24, 2013
"New Jam Tuesday" sounds like it could be a real thing, doesn't it? Don't get your hopes up of it happening again, but: I do have a couple of new-to-me tunes to recommend, thanks to iTunes and my random decision to ask it to make a playlist based on the Jackson 5's "ABC" this morning […]
Posted in Truly Random Posts | Leave a response
By Anne Ford on March 26, 2013
I'm thrilled to report that the Peaceful Places series is featured in today's edition of USA Today! In Chicago, the Abraham Lincoln Book Shop and Harold Washington Library Center Winter Garden are called out. Yay.
Posted in Brags, Peaceful Places | Leave a response
By Anne Ford on January 15, 2013
The wonderful folks at Groundfire Pictures and I have collaborated on some short online films starring a few of the people who've appeared in my Chicago Reader series, "Chicagoans," over the last three years. Check them out here, won't you? In December, Mike Stephen of Outside the Loop Radio interviewed me about the project. You […]
Posted in Chicagoans | Leave a response
By Anne Ford on October 9, 2012
I did a couple of guest posts for my friend Rachel's blog, Being Finite, while she was away. Rachel is a great friend and a great writer, and if you happen to be an agent, please go represent her novel right now. Thank you.
Posted in Uncategorized | Leave a response
By Anne Ford on September 18, 2012
According to Wikipedia, in the days before elevators, the garret was the "least prestigious position in a building." While the third-floor garret (a.k.a. "home office") I write in is much nicer than Jo March's or Sara Crewe's, I can attest that it is not a particularly prestigious space. This was brought to my attention yesterday […]
Posted in Uncategorized | Leave a response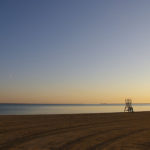 By Anne Ford on July 26, 2012
1. Wait till twilight. 2. Put on bathing suit.* 3. Locate lake. 4. Enter lake, slowly, up to neck. 5. Enjoy feeling of ridged sand on bottom of feet. 6. Enjoy feeling of cool, clear water on entire body. 7. Enjoy sight of lake meeting the sky. 8. Enjoy absence of stickiness and sweat. *Depending […]
Posted in Peaceful Places | Leave a response
By Anne Ford on June 17, 2012
I had a blast speaking to the Women's Exchange in Winnetka on Thursday. I was a bit bleary-eyed from a late flight the night before, but they didn't seem to mind. And a couple of the attendees even told me about some peaceful places I'd never heard of. Once I've checked them out, maybe they'll […]
Posted in Peaceful Places | Tagged chicago, peaceful places | Leave a response